The Complete Guide to Finding a Doctor in Germany, Searching for Health Providers in Germany, and More
If you have recently moved to Germany then this is something you must know, How to find doctor in Germany is a question which pops up in your mind when you fall sick and you don't know what to do.
Well this is something we as an Indian do when you we actually fall ill and we start up looking for remedies and doctors to see us but unfortunately the process isn't that simple in Germany.
In this post I will be taking about everything you need to know in order to find a doctor in Germany.
I have also created a video about this in case you want to watch the video on Youtube.
10 Things You Need to Know About Doctors And Hospitals In Germany
Germany has a well-developed healthcare system and medical professionals. The country is home to a number of world-class hospitals and doctors, who are renowned for their skill. Here's a quick guide on how you can find a doctor or hospital in Germany.
The first step is to find out whether there are any German physicians or medical centres near your home. This should be done through online research or by using the phone book, as well as asking friends and family living in Germany. If you're an expat, it will be easier to find someone who speaks your language.
If this doesn't work, you can also try looking up your nearest hospital through Google search engine for their website address and then call them for details about the doctor they have on staff that might
Who is Hausartz and why should you have a Hausartz?
If I compare this with India, then we have a family doctor right, Hausartz refer to the family doctor in Germany. Whenever you are ill or have some issue then you can go to this doctor. He/She is a general physician for you. If he/she thinks that you need more help then, they will write a referral for you along with the doctors name in your area and this is how you can check with other doctors.
Why it is important to register with Hausartz when you are in Germany. The reason is simple every doctor can have a set number of patient in the public insurance/private insurance. So if you really need to see a doctor it is not like you just drop by the clinic/praxis and they will examine you.
In Germany you first have to find a doctor and see if there are space eligible with them and then they will examine you. This is different situation then visitign an emergency ward in hospital because that is completely different story and I am not talking about that.
How To Find A Doctor In Germany?
Search on Google –
This first method you have to do in finding a doctor near to you, search on google for Hausartz near me and then look for the phone number of them and just call them and ask if they are taking a new patient.
Check on 116117.de
Once you are on this website click on the menu and select Doctor search there. After then enter your postal code and it will list down all the doctors in that area.
Once you click on the doctors listed below you can tap on that and find out whether the doctor speaks english or not.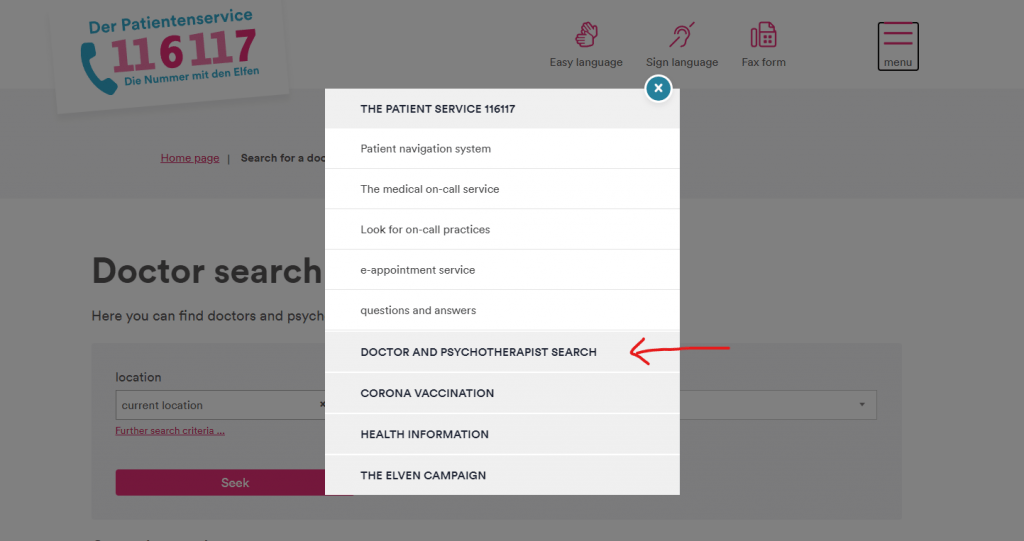 Doctolib and Jameda are another third party application which is really good way to find doctors near you. I was easily able to find and book an appointment with the Dermatologist near me and guess what, the rescheduling was also pretty easy for me.
What is the Health Care System and How Does it Work in Germany?
Germany has one of the best health care systems in the world. It is based on the principle of "social solidarity" which means that it's a universal system that everyone is entitled to. This means that if you are eligible for treatment, you will receive it regardless of your ability to pay. The health insurance pays for medical care and some other services, like dentistry or eye care, but does not cover everything.
As with many countries, this system has evolved over time as the population has changed and needs have changed. This includes changes in financing aspects of the system, including health insurance companies making profits from premiums.
How Much Does German Health Insurance Cost?
In Germany, there are two types of health insurance: public and private. While the public insurance is required by law, the private insurance needs to be applied for.
Public Insurance: Public health insurance in Germany is called "Gesetzliche Krankenversicherung" (GKV). It can be applied for in a special department called "Krankenkasse". Due to the fact that it is free, every citizen has to have a public health insurer regardless of their income or employment status.
But these are the information for citizens of Germany as an Expat Living in Germany I would say go ahead with the public insurance because it is pretty easy to manage, because they give you a card and when you are visiting the doctor they have machine to record the transactions and you dont have to pay anything at that point.
Private Insurance: In order to subscribe for a private health insurance in Germany, you need to apply for it yourself. In this case, you can choose from different providers based on your needs and preferences.
So if you have a private insurance then you will end paying first and then claiming your money in the later stance.
These were all the details which you should know about Indian Life in Germany as an ex-pat.
Please let me know if you have any requests by Contacting me on Contact Page. That was all about my thoughts about living in Germany for a year as an Expat.
Do check out some other posts.