Discover how to apply for Ausbildung in Germany for Indian Students after 12th successfully
Ausbildung is also known as Vocational Training, Apprenticeship where students undergo 3-4 years of training and work and are paid right from the first month in Germany. This is another way to enter and settle in Germany. How to apply for Ausbildung in Germany for Indian Students is a prevalent question that I get from my followers on Instagram.
This process is not easy, actually, nothing is easy in life. Every achievement comes with continuous dedication and hard work. Getting into an Ausbildung program has a few basic requirements.
Get school-leaving certificates recognized and translated
The maximum age should be 25 years
Mostly B2 German Level and sometimes B1 German Level
Apply for vocational training online
Apply for a visa once you get confirmation from the training program
I have already mentioned earlier in my blog posts that having proficiency in the German Language plays an essential role in studying, working and living in Germany. Here are the Top 5 Resources to learn German language.
How to Apply for Ausbildung in Germany
There is only one popular website to apply for Ausbildung or Vocational Training and it is Ausbildung.de
Initially, you might find the user interface tricky, so try to spend some time on this website and then it would be very easy for you to search for a suitable ausbildung program in your profession.
What is the deadline for Ausbildung / Vocational Training
The deadlines are clearly mentioned in the application guidelines of each job description which you will find on Ausbildung.de. However, in general, the apprenticeship can begin on 1st of August or 1st of September or even on 1st of October every year.
There are thousands of job opportunities in Germany and not enough applicants every year, so your chance to succeed is more if you have the basic requirements fulfilled as per the job description of the program.
Most companies start looking for their trainees a year earlier. If you haven't started learning German yet, try to reach the B1 level or B2 level and target for the next year now.
What is the difference between Duales Studium and Ausbildung / Vocational Training?
In simple words, both are studying and working with a single company that hires you. They will also pay you every month. The theoretical knowledge in Duales Studium is more when compared to Ausbildung.
Ausbildung is more like training and hands-on knowledge and school training. Ausbildung helps you to enter the job market quickly and start earning immediately.
One doesn't get as many semester breaks and free time in Ausbildung, which is there in Duales Studium.
In the end, both are almost the same and it really depends on what you want to study. There are many interesting programs to become Nurse, Baker, IT Specialist in Ausbildung.
Where to find Duales Studium in Germany?
Here is the portal to look for Duales Studium.
Applying for an Ausbildung in Germany usually involves finding a company that offers training in your desired occupation. The company serves as the training provider, and students are typically employed by the company while undergoing the training. It's essential to search for suitable companies and vacancies and apply directly to them. I am sharing the link of the database, where you can find all the companies interested to enroll students for Ausbildung in Germany.
You will find all the Ausbildung program here.
What are the popular professions in Ausbildung Program?
Once accepted into an Ausbildung program, you will sign a training contract with the company, outlining the terms and conditions of the training. You will receive a salary during the training period, which typically lasts for two to three years, depending on the occupation.
On average, students would receive at least €600 Euros grant in the first year and for some professions like Nurses, they can get €1190. You should keep in mind, the salary would also differ from profession to profession and also which state are you applying.
Sometimes, salaries differ from state to state majorly.
Steps to Apply for Ausbildung for Indian Students?
I am sharing the screenshots of the official website's application, however, you can also go through the complete pdf document here: Ausbildung Guide
1. Get School Leaving Certificates
2. Application for Apprenticeship Online
3. Visa Application for Indian Students
4. Travelling to Germany from India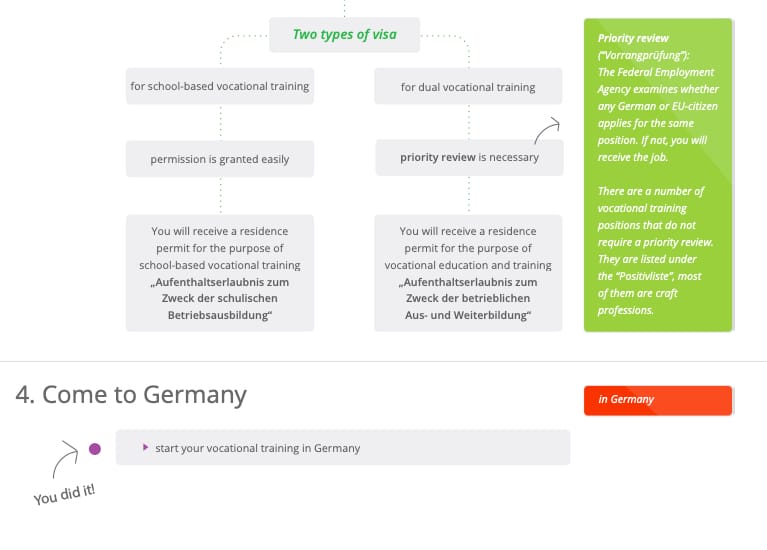 After the end of the course, there is a common query regarding which degree will be provided at the end of the ausbildung program in German. As a rule, a certificate as a 'skilled worker' is awarded as a degree. This degree offers excellent career opportunities in Germany and worldwide. This is not a bachelor's or master's degree.
Overall, Indian citizens can certainly pursue an Ausbildung in Germany also known as vocational training to apprenticeship provided they meet the necessary requirements and find a suitable training opportunity. I would recommend that it's important to research and understand the specific details and procedures related to the desired occupation and the application process for training in Germany.
Can a foreigner do Ausbildung in Germany?
Yes, foreigners can pursue Ausbildung in German. Depending on which country you are coming from, you will have to apply for the required visa.
Can Indians do Ausbildung in Germany?
Yes, Indian citizens can pursue an Ausbildung in Germany. Germany has a well-developed vocational education and training system, which is highly regarded globally. The "Ausbildung" system offers practical training in various occupations, combining theoretical instruction with on-the-job experience.
What is Ausbildung in Germany?
In Germany, vocational training also known as Apprenticeship or Ausbildung is standardized and designed to equip trainees with the necessary skills for a specific profession. The duration of an apprenticeship typically ranges from two to three and a half years, depending on the chosen occupation. You can begin your apprenticeship immediately after completing your school education.
What language level do you need to do Ausbildung in Germany?
German language skills are crucial for successful vocational training. 
It is recommended at least language level B2 when taking up 
vocational training and at least language level B1 for introductory qualifications. I would say don't rely on just B1.
How long did the Ausbildung program last in Germany?
In-company training can last between 2 and 3.5 years. 2-year vocational training often has a smaller proportion of theory than 3-year or 3.5-year training. You can often follow this with training in a related profession that lasts 3 or 3.5 years.
Can I move to Germany after school from India?
Yes, you can move to Germany after school with proper German requirements to earn and study together. Please note, Ausbildung is only for students who just want to come to Germany for work because after Ausbildung you're not eligible to attend university you'll have to attend studienkolleg again then you will be eligible to study in universities.
Which degree will I get with an Ausbildung in Germany?
As a rule, a certificate as a 'skilled worker' is awarded as a degree. This degree offers excellent career opportunities in Germany and worldwide. This is not a bachelor's or master's degree.
Below are some more interesting posts related to Study in Germany for Indian Students: